From the President Paul Radden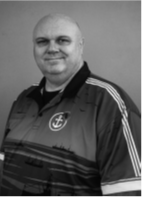 Hi Everyone,

Just a quick note to say Vicar of Dibley is in full swing with rehearsals and the cast are starting to really click. Please spread the word about this show as the cast deserve to be performing to good houses. The Big Band Weekend has had many interruptions with the lockdown affecting rehearsals and even having to move the concert from the original date to Labour Weekend. Again, please come along and spread the word as the band loves to play to a full house and there is nothing better than seeing people getting up dancing on the Saturday night.

It is times like this with the lockdowns we have all had and the tough year many have had, to get out and support each other's events.

I was very saddened to hear of the passing of Mary Gray recently. We were very privileged to have Mary direct the last show we did at PTC, Dad's Army. It was a great show and this was simply down to the vision Mary had and her skill in being able to draw the very best from the cast. My thoughts go to Mary's family and friends at this sad time. A great loss to the theatrical community.

There are a lot of plans in place at the theatre and hopefully you will start to see some changes over the next few months.

With regards to COVID-19, although we are now at Alert Level 1 and all restrictions are lifted and life is returning to normal at the theatre, I do ask that everyone still either scans in or fills in the register please. This is not mandatory but is strongly urged by the Ministry of Health and I think it is prudent to keep doing it at this stage. So please, when at the theatre do scan or sign in. Let's stay safe for ourselves and those around us.

Thanks to everyone working hard in and around the theatre on different projects. Although your efforts go unnoticed by many, they are very much appreciated.

Barb will provide more details throughout the newsletter about upcoming events but as I say, please do get out and support our events. Get a group together and come and dance the night away with the Off Broadway Big Band!

Take care, stay safe and look after each other.

Paul
---
CLUB NIGHT - 16th October
This was going to be a Halloween celebration originally on Friday 23rd October but as the Big Band is now taking over that weekend and we will need that night to set up, our Club Night has been brought forward. Also, we felt that people would probably just like to sit and chat and catch up as some of us haven't seen each other in a little while so leaving Halloween till next year.

So, come on down, the bar will be open and if you'd like to share in dinner, chuck in your $5 and we'll do the usual pizza and chips thing. If you are going to be late but want to order, ring/ txt Barb on 027 252 8265\ as Louise will not be there this Friday.
---
BIG BAND
And here we are, thankfully back down at Level One! Yippee! And hopefully where we will stay now! And if you are looking for a good time to make up for the past few months, here's a suggestion…..tickets are now selling steadily so don't miss out!
PTC is so happy to have the Band back with us, helping to raise much needed funds. Come along and support your Club and the Band with this great fundraiser and enjoy some superb music. Dance the night away or just sit and tap your toes to the rhythm – whichever, we guarantee you a good time!
---
NO, NO, NO, NO – YES!! -- TICKETS ARE NOW ON SALE!!
Congratulations to all our cast! Great to see some familiar faces back and welcome some new ones!
Also, from Saturday 17th October- 11am to 2 pm - tickets will be on sale at the theatre.

This is a fun show! Rehearsals are going really well – the set, props and costumes are coming along nicely. Get your tickets early – you don't want to miss out! This is bound to be as popular as Dad's Army and we had a number of sold-out performances for that one!
---
COMING SOON TO OFFBROADWAY
If you came to our Australian Bushfire Concerts you will have seen Andre Vegas in action with his magic!
This Halloween for two shows only!
An upmarket freak show. A fast-paced, action-packed, horror-themed circus show, featuring Grand Illusions, Hula Hoops, Juggling, Contortion, Comedy, Circus, Dance, Magic, plus much more.
Featuring The Kiwi Horror Illusionist ANDRE VEGAS and Company.
Treat yourself to a front row seat and watch at close hand as Andre takes you into his world of magic and illusion!
Warning - contains horror and adult themes!
---
A REMINDER!
OUR COSTUME SHOWCASE WILL NOW BE HELD ON
SUNDAY 13TH DECEMBER – 2 pm
We are delighted that all current ticket holders have transferred their tickets from the original August date to this new December date.
An afternoon of fun, showcasing many costumes from our shows with a little music to watch clothes go by!
Tickets $20, includes a cuppa and cakes. The bar will be open and there will be some great raffles.
Please email This email address is being protected from spambots. You need JavaScript enabled to view it. for further information or to check on ticket availability.
---
---
IN MEMORIAM
It was with great sadness that we heard of the passing of Mary Gray on Tuesday 29th September at Totara Hospice.
Mary touched so many lives, particularly in the world of community theatre and particularly youth theatre. An incredibly talented actor and Director, Mary was a fun person to work with whilst always being incredibly professional. She will be remembered with great fondness and love. We extend our deepest sympathy to Mary's husband Bob and family on the loss of their wife and Mum - to us at Papakura and community theatre alike, a true thespian who we will all miss.
A small private funeral was held at Fountains. Mary's family suggested that people may like to make a donation to the Totara Hospice, which they termed "a wonderful place" - and this PTC has done in Mary's name on behalf of all our members.
---
DATES FOR YOUR DIARIES!
Friday 16th October - CLUB NIGHT – 7 pm
Saturday 17th October - Ticket sales start at Off Broadway – every Wednesday & Saturday from 11 am to 2 pm (for Big Band & Vicar)
Saturday 24th & Sunday 25th October - THE OFF BROADWAY BIG BAND'
Friday 30th & Saturday 31st October - THE DARK CIRCUS with Andre Vegas (Off Broadway)
Sunday 1st November - CLEVEDON VALLEY MUSIC FOUNDATION TRUST St Andrews Church, Clevedon – 1.30 pm
Tuesday 3rd November - ELEVENSES WITH LISA LORRELL (Off Broadway)
Saturday 7th November - TROUPES & WYATT VINTAGE MARKET (Off Broadway)
Saturday 14th November - THE VICAR OF DIBLEY Opening Night
Sunday 22nd November - SOUTH AUCKLAND CHORAL Cristmas Concert – Crossroads Church at 2.30 pjm
Sunday 13th December - PTC COSTUME SHOWCASE
Friday 18th December - PTC CHRISTMAS CELEBRATION – CLUB NIGHT