From the President Paul Radden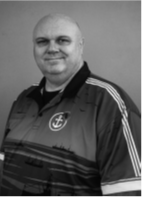 Hi Everyone!
Well, it's been full on at the theatre the last few weeks. In no particular order, we have had Vicar of Dibley auditions. It looks like a great cast for the show and I am looking forward to seeing it come together. We have had the Garage Sale, which went extremely well, with a huge thank you to the organisational skills and dedication of Susan. Apart from several sellers being on site, we sold many props, excess gear and goods donated to help raise funds for PTC. We are in full swing for Steph's idea of a Costume Extravaganza. Alongside Steph have been the other wonderful wardrobe ladies, Judy and Judy. Thanks ladies for bringing this event together. Thank you to all the others who are helping make this a lovely afternoon and are giving their time to run the bar, cook, usher, ticket and so on. Thank you all very much. Whilst all these things have been going on, we somehow managed to fit in the REVIVAL Concert. This was simply superb with special thanks to Chiara for organising the event and the other talented, very talented singers who performed at this event. It was very much enjoyed by all. I attended the Saturday evening and thoroughly enjoyed it. It is not often I actually get to things these days due to work so to be able to sit down, relax and enjoy a very friendly, casual yet extremely professional evening was wonderful. It was lovely to see all the artists back on our stage performing to a very grateful and appreciative audience.
We have also had the ever-popular Troupes Wyatt Vintage Market at PTC where several of the committee manned the BBQ which proved to be popular. Who would have thought people love cheese on sausages !?
If I have missed something out that has happened, I apologise. I am writing this speedily at work and trying to remember everything that has been going on. As I say that, I remember that we do of course have the Big Band weekend at the end of September. Please start spreading the word as there is nothing nicer than for musicians to play to a full house.
I am sure Barb will catch you up on everything I have forgotten. But, in conclusion, please let me say a sincere thanks to everyone who has been so giving of their time and will be in the coming months to enable the theatre to put on all the events we have or are about to this year. It is a true team effort and I am very proud to be a part of it.
Keep up the great work everyone.

Take care,
Paul
---
DATES FOR YOUR DIARIES! (For more details, please read on!)
Friday 14th August – Club Night (cancelled)
Sunday 16th August – Costume Showcase Extravaganza
Tuesday 1st September - Elevenses with Lisa Lorrell
Saturday 5th September – Troupes and Wyatt Vintage & Artisan Market
Friday 18th September – PTC Club Night
Saturday 26th & Sunday 27th September – Off Broadway Big Band Weekend
Friday 23rd October – PTC Club Night
---
FIRST THINGS FIRST!
Bring your board games to share!
Also we are putting together a hamper as a raffle for the Costume Showcase on Sunday 16th August and it would be much appreciated if you could bring along a donation of a tin (or two perhaps) of something to add to the hamper. Any non-perishable foods or toiletries would be great – thank you!! Barb is collecting all donations for the raffle.
---

Developed, organised and directed by Stephanie Parker with assistance from our wardrobe team, Judy Wilson & Judy Stowers.
A great Sunday afternoon's entertainment with a Parade, Music & Afternoon Tea! What more could you want!
Tickets are selling fast so be in quick – either email This email address is being protected from spambots. You need JavaScript enabled to view it. or txt Marie VK on 021 545011 ( not Barb).
AND THEN THERE'S THIS….YES THE BIG BAND IS BACK!!! And this time Lisa Lorrell is joining Ron to sing at the Saturday night event.
Spread the word around your family and friends – make up a party and book a table and let's get those dancing feet going!
Thank you Heidi Lovatt for the great poster!
---
And now…..HERE'S THE ANNOUNCEMENT YOU'VE ALL BEEN WAITING FOR!
Congratulations to all our cast! Great to see some familiar faces back and welcome some new ones!
The cast and crew of Vicar will have their first gathering on Sunday evening 23rd August at 7 pm. We are looking forward to hearing more news as rehearsals move along.
The Production Team will be announced shortly but if you are interested in getting involved, please contact Production Manager Louise Parker on This email address is being protected from spambots. You need JavaScript enabled to view it..
---
LIFE AT OFF BROADWAY
So, what has happened at Off Broadway since we went back to our theatre for our AGM? Well actually, lots - and there's more to come!
Friday 19th June Our First Club Night since March – it was so good to be back! Everyone was full of chatter and busy scoffing pizza and chips and just enjoying being back in the theatre and catching up.
Saturday 27th June Another working bee and "the bucket brigade" moved all the props back upstairs and we now have a beautifully tidy Props & Wardrobe Department – all the Props are in boxes and containers and labelled and it sure looks good. Thank you Susan for organising this, thanks to Merv, Gary and Nic for the work you did adding to the flooring space and the lighting up top and thank you to everyone who turned up for the working bee. A great job done!
Friday 10th July Club Night – and designated as Pot Luck Dinner this time plus a Dance & Choreography Workshop with Louise Parker. Well, the idea of a dance workshop might have put a few people off perhaps, but no – about twenty members turned up. And what fun we had! Louise had carefully designed her workshop to suit all of us – and I mean all! She even had Gary and Merv joining in. Well done Louise! Haven't laughed and had so much fun in ages! Thank you!
Saturday 18th July Our big garage sale! This was a great success with 16 other vendors plus PTC stalls selling props and wardrobe stuff no longer needed. By the time we opened at the advertised time of 8 am there was quite a crowd waiting outside and when the doors were opened the first ones through literally ran right up through to the stage to look at the old props. We had a busy couple of hours and then it slowed to a steady stream; certainly an interesting day!Thank you to everyone who turned up to help, and a special thanks to Susan who organised it all, to Judy S and Judy W and Steph who organised the wardrobe stall, and to the guys outside in the cold on the sausage sizzle! We raised nearly $2000 for PTC so a good effort – so also thanks to Marie VK who had the job of counting all the money!
Saturday 25th July On the morning of 25th, we held auditions for our November production of The Vicar of Dibley, with Bob Lack as Director and Louise Parker as Production Manager. We had a very good response and we are delighted to announce our cast on the front page of this newsletter. Lots of laughs coming up!
---
And it was also REVIVAL Weekend! Saturday 25th & Sunday 26th July
This wonderful fundraising concert was organised by Chiara van Baarle who played the role of Swallow in our production of Whistle Down The Wind back in 2014. Chiara put together a group of singers who had appeared on our Off Broadway stage in very recent years and they worked out a programme of songs from shows we had produced; On stage with Chiara there was Simon Chapman, Sean MacFarlane, Katy Roose, George Everts and Kelsey McEwan. Appearing as Guest Artistes were Chris and Liam Walker and Rupert Archer, students of Majors 'n' Minors Music Studio. The audiences had a real treat as both concerts were absolutely superb and played to sold out houses!
Our very grateful thanks to Chiara, Katy, Kelsey, Simon, Sean, George, Chris, Liam and Rupert for giving up your time to help PTC – we so loved what you did and what you did for PTC! Our thanks also to their sound team of Daniel Klinac and Craig Wilkinson, to Gary Hieatt for the lighting and Susan Andisen for decorating the set.
And to the team on Front of House – the large crowd was looked after well and made to feel at home, so thank you for that.
And on top of all that, we have had three private hires with Lisa Lorrell's lovely Elevenses on Tuesday 7th July. Troupes & Wyatt's Vintage Market on Saturday 1st August and a church group who hired the theatre on Saturday 1st August for a musical evening!
So you can see it's been a busy old place since the beginning of June!
---
OTHER BITS AND BOBS
PTC's the Winner!
Great news to find that PTC has won a competition run by Guthrie Bowron on Facebook recently and our prize is $1000 worth of paint. Isn't that just brilliant! We'll get the outside cleaned up and painted when the better weather settles in. A huge thank you to Guthrie Bowron and to all who voted for PTC on Facebook!
Did You Know..(This has absolutely nothing to do with theatre!)
That Sustainable Papakura collects all of the following for recycling:
Any brand toothpaste tubes, toothbrushes, floss and mouthwash containers – sent to TerraCycle
Batteries – all sorts
small e-waste – sent on to ewaste.org.nz for recycling
bread-bag tags --These are made into seed trays in South Africa then sold, with the proceeds being used to provide wheelchairs to young people.
wine bottle caps
clean coffee pods – sent to TerraCycle for recycling
aluminium cans and tins – sent on to MetalMan
spectacles – these are sent to the Lions who then send them on to the Pacific Islands
ballpoint pens – any brand can be recycled by TerraCycle
Judy W and Judy S recently went to a talk by Sustainable Papakura and came back with this news. Sounds good! Anything we can do to stop stuff going into landfill is a good thing.
How about saving these things in your house and maybe bring them along to a Club night and give them to either Judy W or Judy S – or take them along yourself to the collection centre behind the Lions headquarters (the white house on the drive at Selwyn Oaks) in Youngs Road.
Check out Sustainable Papakura's website www.sustainablepapakura.org.nz or their Facebook page for more information.